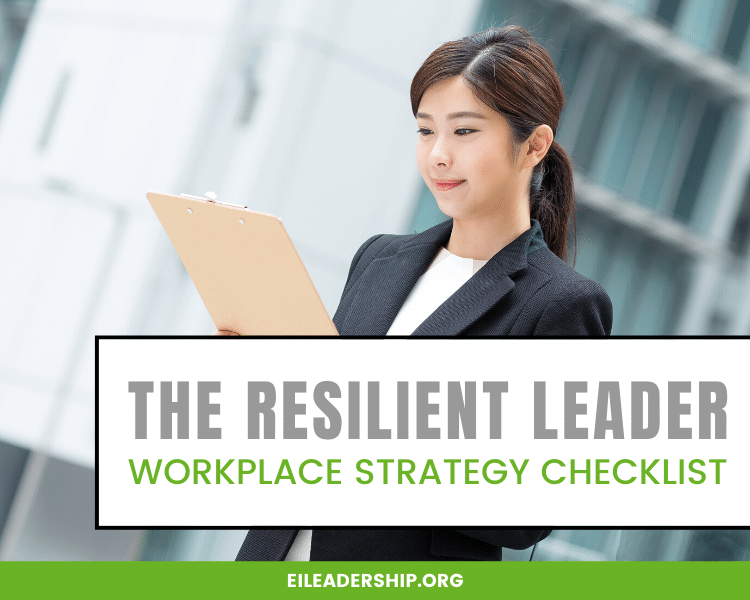 The Resilient Leader Workplace Strategy Checklist
Resilience is your capacity - it is like a battery. Batteries need to be recharged every day! The following is a checklist to help you and your team stay focused and energized.
1. Make meetings technology free.
Research shows that computers and cell phones, even when closed or face down, are distracting in a meeting. To increase engagement, let everyone know they have to leave their phone outside the meeting or put it on flight mode and put it in briefcase.
2. Cut meetings in half, time wise.
Studies show people spend as much as half their time in meetings, sometimes more. And unfortunately, this is not productive time. Most meetings are too long. To build engagement consider meeting for shorter periods of time with a very narrow focus.
5 minute huddles are great to state progress and or identify the focus for the day. Have your team tell you "What's Next" in 30 seconds at your morning stand up meeting.
Schedule a 30 minute meeting with a specific goal and a structured agenda to more quickly get to your goal.
3. Use the Daily Review as an accountability and communication tool.
The 5 minute review tool can be helpful to stay on track. At the end of the day, have everyone on your team do this exercise. They keep their own notebooks and write out: What worked?, What did not? and What's next?
4. Hold meetings outside, walking, when possible.
Walking is a great way to work off steam and tension. This type of meeting can be useful if you expect tension around a topic.
5. Encourage water, movement and mindfulness.
Water is a natural energizer. Coffee depletes water from the body. Movement releases tension, Tip #4 talks about walking meetings to keep people focused on the agenda item and not the tension.
Mindfulness is focusing your attention on the present moment.
6. Encourage face to face conversations vs email or text.
Email is one of the biggest complaints I hear from leader. If your email inbox is sucking up you precious time and energy, it is time for an email policy. Consider an "email free" day. Use the email auto-respond feature, even when you are in the office, and let people know that if this is a question that requires a conversation to schedule an appointment. There are a variety of ways you can discourage unnecessary emails.
Face to face conversations are going to be more productive and help to build relationships.
7. Set up "listening" Town Hall meetings held quarterly.
A "listening" town hall meeting is designed to have staff ask questions about what is happening int he department or organization and have the executive team answer questions. This is not the time to talk about solutions or rebut and defend decisions; it is simply to listen and understand the concerns of your staff.
8. Discourage interruptions.
Have you tracked your interruptions and those in your department? Research shows that a 15 second distraction can derail your focus for 20 minutes! And most of the time one does not get their concentration back. Observe how your department functions and notice any trends or patterns in the interruptions.
How can you discourage these interruptions?
9. Manage Your Energy
Manage your energy with healthy daily choices. These daily choices related to diet, exercise, amount of coffee, water, etc., have a major impact on how productive you are. Make your choices abased on your goals - do your choices support your agenda?
Or are you just getting through your day?
Did you find this post helpful? Pin it for others to enjoy!