Emotional Intelligence Assessment
Leadership IMPACT comes from emotional effectiveness.
You will enhance your influence and impact by increasing your self awareness. Schedule this assessment and feedback session.
Take the world's leading emotional intelligence assessment.
The EQi 2.0 is a powerful assessment and gives you great insight into your leadership style, strengths and areas that could potentially de-rail you.
Armed with this information, you are prepared to make adjustments and deepen your ability to influence, persuade and get the results you want consistently.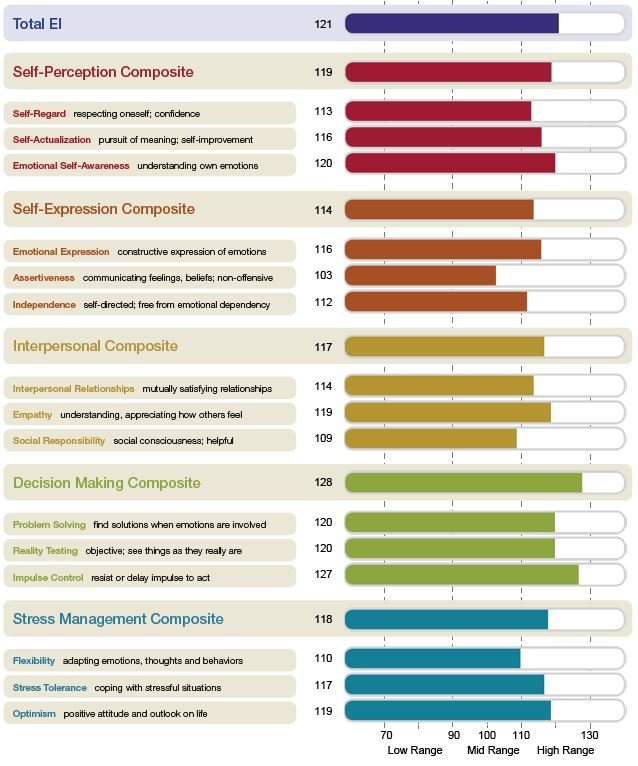 The assessment is broken into 16 dimensions that reflect various aspects of  emotional intelligence.
Your score reflects how often you engage in each of these dimensions and your comfort level in using them.
To help you understand the wealth of information contained int his report, we include online resources, a workbook and 1:1 coaching to help you digest this information and apply it. This assessment increases your self-awareness and increases your ability to adapt and show up – in the moment – at your best.
The EQi 2.0 Model has 5 main categories with 3 sub scales in each. There is an overall well-being scale to make up 16 dimensions.
What's Included in the Ei Impact Package?
Power up Your Leadership Now!
The assessment and feedback session with Dr. Howard will increase your self-awareness and allow you to make small tweaks in your approach that will boost your impact. Your confidence will soar and your influence expand.
I always knew I had a strong personality and I kept butting heads with people at work. I took this assessment and learned so much about balancing what and how I communicate. [Carrie S., Dir of Operations]
Taking the EQi helped me understand how I was interacting and what to do to make it better. I had not realized the effect I had with my team when I was holding meetings and giving reviews. [Shaw K., Team Leader]
Testimonials
I took the emotional intelligence assessment and was amazed at what I learned. It helped me uncover my blind spots. Right after our session, I went into a potentially explosive meeting, and was prepared.
- Sabine Brandt, Agile Expert
The Eqi was an eye opener. It explained why I do certain things. I learned to balance my assertiveness with my independence. This helped me with my boss. I highly recommend it!
- Jennifer Barkley, Regional Sales